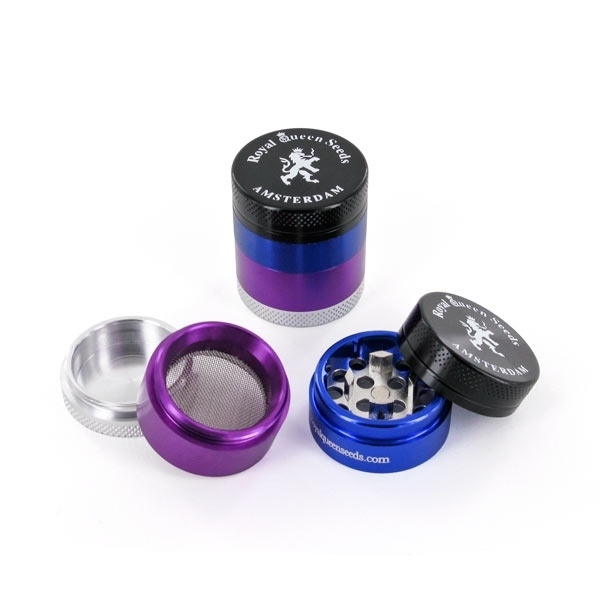 Molinet metàl•lic de color (4 peces)
El nostre triturador de quatre peces i de color guarda el teu pol•len de manera segura Aquells que tenen experiència en el món del cannabis ja coneixen les meravelles d'un triturador de quatre peces amb sedàs. En comptes de perdre els tricomes que es desprenen quan es mol el cannabis, es recullen en la part inferior del triturador per a fer-los servir més endavant.
Aquest petit triturador de marca és excel•lent per portar-lo a tot arreu. Et cabrà perfectament a la butxaca o a la teva capsa i té un acabat perfecte! Els compartiments en acer de color blau, morat, negre i platejat recorden la reialesa i el nostre logotip a la part superior confirma que aquest triturador és adequat per a reis i reines. Els colors brillants s'afegeixen a partir d'un procés elèctric que rep el nom d'anodització. No és pintura i, per tant, no saltarà ni contaminarà la teva marihuana com fa la pintura d'altres articles relacionats amb el cannabis.
Com funciona un triturador de quatre peces? El material de la planta es tritura en la secció superior al fer girar la tapa. Aquest material cau pels forats del triturador cap a la malla metàl•lica de la part del sedàs. Els potents i diminuts tricomes de la marihuana passen pel sedàs cap a la part inferior.
Per a l'ús diari, només cal que descargolis el compartiment triturador, retiris el material que necessites i el posis a la teva pipa preferida o al teu vaporitzador. Al cap d'unes quantes vegades, fes una ullada al compartiment inferior o descobriràs una fina pols de tricomes.
Els aficionats a la marihuana saben que aquest material és poderós. Quan encara està a la planta, rep el nom de cristall, i quan ja s'ha recollit al triturador, pol•len. El haixix tradicional es fa d'una manera semblant.
Si no fas servir un triturador de quatre peces, aquest potent material simplement cau a terra o queda embussat a l'interior del triturador. Aleshores, has de retirar-lo o el triturador quedarà encallat quan intentis triturar.
Per utilitzar els tricomes recollits, pots escampar-los a sobre del material triturat o guardar-los fins que en tinguis prou per compactar-los i fumar-te'ls.
Deixa de malgastar la marihuana! El pol•len que cau, sovint és la millor part i no s'hauria de malgastar. Demana avui mateix aquest triturador i aviat tindràs un regalet de tricomes.



By alessio C. on 20/Jun/2016 :

Title : comprare
Comment : Come si fa a comprare?

By alexis M. on 08/Jan/2015 :

Title :
Comment : tres bon produit

By Andrei L. :

The customer has rated the product but has not posted a review

By liam S. on 18/Mar/2014 :

Title : not to bad
Comment : a little to small for my Hands only can grind a small bit a time and magent keeps geting cloged up kida a pain but works lovey and u dont lose THC :) ( why 3 star ) wish it was bigger for what u pay )

By Ignas L. on 28/Jan/2014 :

Title : A great grinder
Comment : This grinder is tiny (like 2cm in diameter) but it is very durable and the 2nd level container (to which you grind your stuff) is exact size for 1 spliff. Grind it full, use on a spliff and it should be just the perfect amount for 2-3 people.

By Sher J. :

The customer has rated the product but has not posted a review

By Tommaso D. on 15/Nov/2013 :

Title : Grinder
Comment : Piccolo e discreto, il grinder perfetto per tutte le occasioni!

By Alex O. on 20/Jun/2013 :

Title : small but useful
Comment : i carry my grinder always with me because its small and it fits into my pocket

By Isabel M. on 03/Apr/2013 :

Title : great lil grinder
Comment : Used it several times scince I got it and still love it. Yap, it's small but it works very good and fit in almost each pocket... Thx for this great tool

By Bojan L. on 21/Feb/2013 :

Title : Grinder
Comment : Very interesting device. :)

By mark M. on 07/Feb/2013 :

Title : grinder
Comment : its a bit small but does wot its made for easy to carry about and not to bulky thanks royal queen seeds

By dries N. :

The customer has rated the product but has not posted a review

By Alaerts C. :

The customer has rated the product but has not posted a review

By Geoffrey M. on 03/Jan/2013 :

Title : Grinder sympa !!!
Comment : Bonjour, Je trouve ce grinder sympathique, petit bémol quand même sur le diamètre. La taille n'est pas indiqué dans le descriptif et je tenais donc à préciser au futur acheteur que ce grinder mesure 3cm de diamètre. Merci royalqueenseeds.




You can't post a review because you are not logged as a customer

Log in / sign up
We do not ship this product to the following countries:
Germany, Canada, China, Finland, Japan, Luxemburg, United Kingdom, United States, HongKong, Australia, Singapore, Ireland, New Zealand, South Korea, Israel, South Africa, Nigeria, Ivory Coast, Togo, Bolivia, Mauritius, Romania, Slovakia, Algeria, American Samoa, Andorra, Angola, Anguilla, Antigua and Barbuda, Argentina, Armenia, Aruba, Azerbaijan, Bahamas, Bahrain, Bangladesh, Barbados, Belarus, Belize, Benin, Bermuda, Bhutan, Botswana, Brazil, Brunei, Burkina Faso, Burma (Myanmar), Burundi, Cambodia, Cameroon, Cape Verde, Central African Republic, Chad, Chile, Colombia, Comoros, Congo, Dem. Republic, Congo, Republic, Costa Rica, Croatia, Cuba, Djibouti, Dominica, Dominican Republic, East Timor, Ecuador, Egypt, El Salvador, Equatorial Guinea, Eritrea, Estonia, Ethiopia, Falkland Islands, Faroe Islands, Fiji, Gabon, Gambia, Georgia, Ghana, Grenada, Greenland, Gibraltar, Guadeloupe, Guam, Guatemala, Guernsey, Guinea, Guinea-Bissau, Guyana, Haiti, Heard Island and McDonald Islands, Vatican City State, Honduras, India, Indonesia, Iran, Iraq, Man Island, Jamaica, Jersey, Jordan, Kazakhstan, Kenya, Kiribati, Korea, Dem. Republic of, Kuwait, Kyrgyzstan, Laos, Lebanon, Lesotho, Liberia, Libya, Liechtenstein, Lithuania, Macau, Macedonia, Madagascar, Malawi, Malaysia, Maldives, Mali, Malta, Marshall Islands, Martinique, Mauritania, Hungary, Mayotte, Mexico, Micronesia, Moldova, Monaco, Mongolia, Montenegro, Montserrat, Morocco, Mozambique, Namibia, Nauru, Nepal, Netherlands Antilles, New Caledonia, Nicaragua, Niger, Niue, Norfolk Island, Northern Mariana Islands, Oman, Pakistan, Palau, Palestinian Territories, Panama, Papua New Guinea, Paraguay, Peru, Philippines, Pitcairn, Puerto Rico, Qatar, Reunion Island, Russian Federation, Rwanda, Saint Barthelemy, Saint Kitts and Nevis, Saint Lucia, Saint Martin, Saint Pierre and Miquelon, Saint Vincent and the Grenadines, Samoa, San Marino, São Tomé and Príncipe, Saudi Arabia, Senegal, Serbia, Seychelles, Sierra Leone, Slovenia, Solomon Islands, Somalia, South Georgia and the South Sandwich Islands, Sri Lanka, Sudan, Suriname, Svalbard and Jan Mayen, Swaziland, Syria, Taiwan, Tajikistan, Tanzania, Thailand, Tokelau, Tonga, Trinidad and Tobago, Tunisia, Turkmenistan, Turks and Caicos Islands, Tuvalu, Uganda, Ukraine, United Arab Emirates, Uruguay, Uzbekistan, Vanuatu, Venezuela, Vietnam, Virgin Islands (British), Virgin Islands (U.S.), Wallis and Futuna, Western Sahara, Yemen, Zambia, Zimbabwe, Afghanistan, Antarctica, Bosnia and Herzegovina, Bouvet Island, British Indian Ocean Territory, Cayman Islands, Christmas Island, Cocos (Keeling) Islands, Cook Islands, French Guiana, French Polynesia, French Southern Territories, Åland Islands
CLIENTS QUE VAN COMPRAR AQUEST PRODUCTE TAMBÉ COMPRAREN:
Disclaimer
All cannabis seeds sold at Royal Queen Seeds are solely for personal use. We do not supply seeds to large scale or commercial growers. We reserve the right to refuse sale if we suspect this term is being breached.